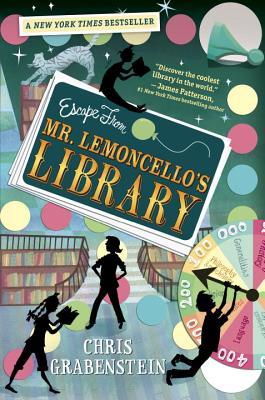 Kyle Keeley is a big fan of all games: board games, word games, and particularly video games. His hero, the famous gamemaker Luigi Lemoncello, is the genius behind the design of the town's new public library. The public library consists of an IMAX theater, an electronic learning center, instructional holograms, interactive dioramas and electromagnetic hover ladders that float patrons up to the books that they want.
In an unexpected way, Kyle won a spot to spend an overnight in the library which filled of fun, food, and lots of games. But in the next morning, the doors remain locked. They have to find the hidden escape route by solving every clue and all sorts of secret puzzles related to books. Also, they will win an extraordinary prize from Mr. Lemoncello.
If I have to rate this book, I will rate it 3 out of 5. Plus another extra star for the author's creativity, which is 4 out of 5. I like libraries but I doubt my country has a well-maintained library or a library with updated resources and good books. I'm looking forward to be a regular visitor to a library after I move to Australia. A majority of people feel that library is a boring place and I guess this book can change their perceptions about it. This book can inspire educational institutions to introduce their libraries in a creative way.
I've learned a few things from this book especially Dewey Decimal System and some book titles. I wish I had known all these when I was a kid. When I look back, I don't think my schools ever taught me the proper way to use the library and Dewey Decimal System. It's just part of the rules but no explanations given to us of how to find a book and why or how to take good care of the books in the library. This book will be a perfect gift for kids who loves books or puzzles.
Here are my favourite quotes from the book:
"Hey, Kyle—you know what they say about libraries?" "Uh, not really." "They have something for every chapter of your life!"
"A library doesn't need windows, Andrew. We have books, which are windows into worlds we never even dreamed possible."
KNOWLEDGE NOT SHARED REMAINS UNKNOWN. —LUIGI L. LEMONCELLO
Rating: ★★★★
More reviews can be found on Goodreads: Escape from Mr. Lemoncello's Library.