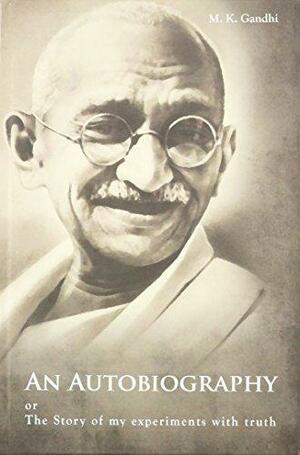 This book consists of five parts, each chapter written weekly and published in his journal Navjivan from 1925 to 1929. The first part begins with his birth, family history, parentage, childhood life in school, and marriage at 13. He shares his experience of being a husband as a child and his experiments with eating meat after being influenced by bad company. The first part also details his struggles in England, especially his dilemma between his vow to his mother and the necessity of eating meat (according to one of his friends that has been effortlessly trying to convince him to become a meat-eater).
In the book's second part, Gandhi began practising law and took his first case after returning to India. In India,  he experienced difficulties finding work which led him to accept the offer to go to South Africa for a lawsuit. Gandhi recounted his experience with colour prejudice when he was asked to move to the van compartment when travelling with a first-class ticket. He refused to budge and was pushed out from the train. It was not uncommon for the Indian settlers to be discriminated against in South Africa at that time. Gandhi was motivated to improve their living conditions in South Africa after reading and hearing the personal experiences of the Indian immigrants.
The third part of the book focuses on his life in South Africa with his family and a brief story of controlling his temptations and living a simple life. He is persistent that public workers should not accept expensive gifts. He expressed his views about lamb sacrifice in religion and hygiene based on his observation after returning to India from South Africa. The fourth part involves more details about Gandhi's work in striving for justice and changes for Indian settlers, especially during the Black Plague outbreak in South Africa. The final part is more about his massive connections and his continuous work in improving the treatment of third class train passengers in India. I didn't finish the last part because I was getting uninterested, but I'm glad that I could make it through until the fifth part.
Initially, I felt Mahatma Gandhi is an extraordinarily humble and modest person. Reading about his journey to South Africa and his difficulties due to his skin colour made me feel frustrated with the system. It felt helpless from his perspective but angry as a reader. The second part has heightened my interest in this autobiography, from difficulties of practising law in India, racial discrimination, and improving the lives of Indian settlers in South Africa.
Actually, I don't know why I put this book on my reading list, and I really regretted it when reading halfway through the book. Probably I shouldn't read it because I don't know anything about Mahatma Gandhi except a noble Indian nationalist. Although I'm not the target audience for this book, it doesn't change my respect for his determination to improve the hardship condition of Indian settlers in South Africa. I think it's a courageous movement from someone who has to break the barrier of shyness and public speaking.
I hope others read this book open-mindedly as some of the views were probably only applicable at that time. A few readers disagreed with Gandhi's ignorance of the doctor's advice and persistence on his own religious diet for his ill son. I'm dumbfounded by his resistance to meat due to his religious vow despite that his son was very sick, but luckily, the son recovered well. However, I find it quirky and slightly horrified by his reasons of guilt for being unable to resist paying an insurance policy. He feels that getting himself insured had robbed his wife and children of self-reliance. He assumes that the family should be expected to take care of themselves, and he compared it with those families of the numberless poor in the world. He feels that death lies in God's hand and shouldn't have an assumption that his death would be earlier than others. He believes that his brother surely will take care of his family if he is not around. My modern thinking feels that since he can afford an insurance policy, why not get his family protected with some essential support before they can be independent? How can he expects his illiterate wife to support a big family without him? Why places the burden on his brother as if his brother has no family of his own to feed? Weirdly, he can be considerate to others, but there are times he isn't able to think from other perspectives. It reminds me of the part when he insists on living simple and disagrees with his friend about taking a different mode of transportation and not spending time going for a walk.
I felt I was dragging myself to finish the book. I knew I could spare my time by stopping reading it and moving on to the next book. I don't know why I kept reading it half-heartedly. I liked certain parts of the book, but some parts were quite dull, especially his numerous friends and acquaintances, which I felt hard to catch up with. I don't have the right to criticise the book because I don't feel it was poorly written. After all, he is writing his own autobiography and not some fictional novel. Maybe I'm not the target audience, and I lost interest fast. Perhaps I shouldn't add this book to the list since I just have shallow knowledge about him. In terms of his views on certain things, there are some aspects that I feel challenging to agree with, but I would like to reserve my opinions and criticism to myself. Besides humility and his courageous movement, nothing much can increase my respect for him, probably due to the differences of views and era. However, I learned one thing from this book about him: he is a modest and honest man. He never hides his weaknesses, and he is just being himself.
---
ISBN: 9788172290818 (Hardcover)
Number of Pages: 420
Rating: ★★ (2/5)
More reviews can be found on: